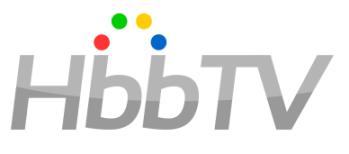 HbbTV stands for Hybrid Broadcast Broadband TV.
HbbTV is an industry-standard for Hybrid digital TV.
The HbbTV standard blends broadcast and broadband delivery of content through connected TVs and set-top boxes. It provides an avenue for more content from TV providers to be made available, including traditional broadcast TV, video-on-demand and catch-up TV services, and UK Radio Portal, of course.
To watch hybrid digital TV, you'll need a HbbTV compatible TV or  set-top box with a range of input connectors, including Ethernet and a tuner for receiving broadcast TV signals from your rooftop antenna.