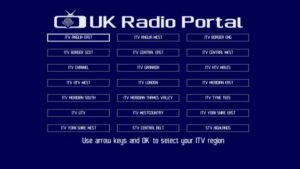 Further to the above FAQ regarding legacy MHEG-5 support, there happens to be a generation of TV's and set-top-boxes which were manufactured around the time of the transition of technology standards that are Internet capable and support both MHEG-5 and an earlier generation of HbbTV  standards, (HbbTV version 1.3.1).
Whilst the majority of devices in operation today support HbbTV 1.4.1 onwards, and are fully compatible with UK Radio Portal, the technology development team that supports UK Radio portal have worked hard to find a way to make our service available to these slightly earlier generation devices supporting HbbTV 1.3.1.
However, because of some technology limitations in the earlier standards, UK Radio Portal is unable to automatically detect ITV Region information, so presents users with the option to select their region on the first occasion that they access UK Radio Portal.  This information is stored in the device, therefore users do not need to go through this step each time they access UK Radio Portal.
In the event that a user needs to change or update their ITV region, this can be done by pressing the Blue button on the remote control when first loading page for UK Radio Portal appears. This will load the ITV Region selection page as shown below.
How do I change ITV regions?