Welcome to

UK Radio Portal – available on

Freeview Channel 277 & Amazon Fire TV Sticks
As a new generation and resurgence of local radio stations take to the airwaves across the country, UKRP brings together an extensive variety of radio stations from the UK & beyond to your Freeview Internet connected Smart TV and Amazon Fire TV Sticks.

Yorkshire (East)

Granada

Meridian (East)

Yorkshire (West)

London

Tyne Tees

Meridian (South)

Scotland (Central Belt)

Anglia (East)

Anglia (West)

Northern Ireland

West Country
UK Radio Portal (UKRP) is a groundbreaking and innovative new interactive TV service designed to bring an extensive variety of Internet delivered radio channels to the UK Digital Terrestrial TV (DTT) Freeview network and Amazon Fire TV Sticks via an easy-to-use interface.
---
Freeview TVs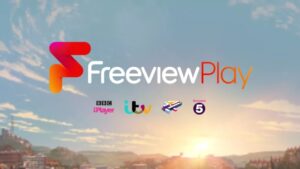 UK Radio Portal works on compatible Internet connected Smart TV's, (such as Freeview Play), on channel 277, allowing consumers to access a wide variety of local, regional, national & international radio services without without forcing them to leave the familiar surroundings of their main TV screen or Freeview menu.
Underpinned by a global technology harmonisation initiative called HbbTV (Hybrid broadcast broadband TV), UK Radio Portal is an innovative Hybrid TV service that uses broadcast and broadband Internet to deliver radio services to consumers through connected TVs and set‐top boxes.
Newer TVs supporting Freeview Play are built on HbbTV standards, allowing consumers to access enhanced interactive features such as red or green button services. 
In December 2022, Everyone TV's press release celebrating the anniversary of 20 years of Freeview announced that Freeview Play was now used in over 11 million homes. This followed sales of over 15 million devices, reaffirming its position as the fastest growing connected TV service in the UK. 
Freeview Play is built into the majority of new TVs and available to viewers for free, with no monthly fees or joining costs. The platform provides over 80 live TV channels alongside on-demand players such as BBC iPlayer, ITVX, All 4, My5, UKTV Play, CBS Catchup Channels UK, Legend, STV Player, POP Player, PBS America, and BBC Sounds and more – and of course, UK Radio Portal on channel 277.
Please note that newer Samsung Smart TVs, whilst not branded as Freeview Play, are also compatible with UK Radio Portal.
To access UK Radio Portal on Freeview channel 277, please ensure that you have the following:
A compatible Freeview TV or set-top-box
A broadband Internet connection of minimum 2Mbps
A TV or set-top-box that is connected to the Internet
A TV or set-top-box that is connected to a UK Freeview/DTT (Digital Terrestrial TV) aerial
---
Amazon Fire TV Sticks
UK Radio Portal is also available on Amazon Fire TV Sticks.
To access the service, simply search for "UKRP", and download/install the app.
We have developed the Amazon Fire TV Stick service to match the user experience found on Freeview TVs, including the option to select/change ITV regions.
To access UK Radio Portal on Amazon Fire TV Sticks, please ensure that you have the following:
An Amazon Fire TV Stick
A broadband Internet connection with WiFi, of minimum 2Mbps
In January 2020, Digital TV Europe reported that Amazon had more than 40 million monthly active users of Fire TV devices. Considering this was at a time just before these devices had proliferated at a more global level, Amazon were also quoted as saying that they hoped to see that figure increase significantly over the coming months and years as they look to expand Fire TV outside the UK and Germany.
Whilst UKRP does not have an official figure for the number of Amazon Fire Stick devices presently in use in the UK market, our research suggested that there could be 10's of millions of active UK users. Our research also suggested that a very high proportion of non-Freeview homes were active users of Amazon Fire TV Sticks, thus our early development and launch of UK Radio Portal to these Amazon devices.
---
Whilst all radio stations on the UK Radio Portal are asked to comply with the UK OfCom Broadcast Code & broadcast advertising rules (BCAP code), there is a risk that some unregulated content may be present since some radio stations are not licensed by OfCom.  For this reason, we request that viewers/listeners proceed with caution, thus the cautionary messages being also present on compatible TV screens.
For more information, please visit: https://ofcom.org.uk/dtt-ip-content