In our opinion, this is our most interesting FAQ, as this is simple question addresses how and why we've re-written the rules of radio access to Freeview Play…
In Q1 of 2022, RAJAR, the audience measurement body for radio, published their Summary of Radio Listening.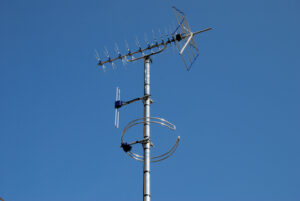 This data states that, by platform, 4.5% of listening takes place on DTT versus 41.1% on DAB – a ratio of just under 1:11.  We believe there are a number of reasons for this, much of which we have addressed in our business model:
There is an incredibly high barrier to entry cost to join the DTT network, (well into six figure sums per annum), thus there are a very limited number of national-only radio stations available on Freeview Play

This limited choice will naturally affect the ratio of DTT listeners, as there is presently no local, regional or community radio station representation on the Freeview platform

Because the main DTT network is a national network,  it may be commercially feasible for national radio stations to broadcast on this platform, but not feasible for regional or local radio

UK Radio Portal's ability to make channels available to defined local areas or regions, (as per Local TV or ITV coverage), radically changes the business model and removes the entry barrier to non-national radio stations
UKRP has conducted an in-depth analysis of the costs of commercial radio carriage on platforms such as DAB and DTT, and taken into consideration the ratio of listeners that presently listen on these platforms.  Our service fees reflect these differences, making UK Radio Portal economically viable and competitively aligned with other platforms.  In other words, we are significantly less costly than national DTT or regional/local DAB when mapped to an equivalent ITV region, as we have to respect the present listenership ratio.
We're not joking when we say that this is a groundbreaking platform. It's not just the Hybrid TV technology which bridges broadcast and the Internet that makes the service cost-effective and accessible, (and the timing is perfect too with the proliferation of this technology and Freeview Play), it's also the overall business model & service costing.
We are so proud that we've found a way to make it feasible for any radio station, from the smallest of community radio stations to the biggest national broadcasters to seriously consider UK Radio Portal, and join the Freeview network – at long last!
How many people listen to radio on the TV?